Have you ever considered using a prepaid legal service like Legalzoom? If so, you're not alone. We live in a very litigious society and the cost of legal advice is outrageously high. Prepaid legal services offer huge cost savings. But are those services worth it? The answer is – it depends.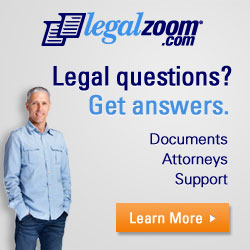 And as you probably already guessed what it depends on is the prepaid legal service you choose to work with. I've always been very skeptical of working with these firms. That's because there is a lot at stake when you deal with legal matters and I only want the very best legal advice I can buy. So my concern with prepaid legal services has always been quality. How do you know that the service you use is going to provide a real professional when your need arises?
Recently I came across a new prepaid legal service offered by Legalzoom.com. It caught my eye as a possible way to save big bucks and potentially get high quality legal advice at the same time. I went in, turned over the rocks and came to some interesting conclusions. What follows is my review of their prepaid legal service program.
Who is Legalzoom?
Legalzoom is an online legal service that helps do-it-yourselfers create legal documents. They help people like you and me put together our own family trusts, wills, name changes, patents, power of attorney, pre-nuptial agreements, property leases, trademarks, divorce, immigration, DBAs, copyrights, and business formation. In fact, there isn't much in the legal world that Legalzoom doesn't do.
Legalzoom quickly realized that most of the people who create legal documents through their service have legal questions at one time or another. Since Legalzoom isn't a law firm, they wanted to match people who need legal advice together with qualified attorneys who could provide that service. As a result, they created their "Legal Advantage Plus" program.
There are two programs. One is for business and the other is for person legal issues and in this reveiw, we're going to focus solely on the personal side of things. Legalzoom is pretty simple. You sign up and pay a very small monthly subscription fee of $14.98 (you can save money if you pay 3 or 6 months in advance). Once you sign up, you can speak with an attorney on any personal or family issue. And you can speak with an attorney about as many personal or family issues as you like and as often as you like. There is no limit on the number of consultations you can request. Topics include:
Power of Attorney
Living Trust
Living Will
Trust Funding
Gifting
Real Estate Deed Transfers
Pour-over last will
Personal injury
Property damage
Criminal defense
Marriage
Divorce
Adoption
Custody
Bankruptcy
Contracts
Lawsuits
Foreclosure
Home sales
Landlord/tenant disputes
Employment Termination
Work agreements
Compensation Disputes
As you can see, the list is exhaustive. But there are two restrictions. First, you only get one consultation per issue. You can't keep calling back to ask more and more questions about the same legal issue. The other restriction is that the maximum length of the consultation is 30 minutes. If you need more time or have more questions on one legal matter, you can retain your own council or you can hire the attorney that Legalzoom has paired you with and receive a 25% discount.
For The Skeptics
I asked the people at Legalzoom what would stop an attorney from jacking up the fees to make up for that discount. The people at Legalzoom told me that all the attorneys who take part in the program sign a contract stating they will not do that.
In fact, if they do jack up the fee to make up for the discount they would not only be violating their contract with Legalzoom, but they'd be in trouble with their own State bar (doing this is a violation for which they could land in a great deal of hot water.)
Is it difficult to schedule the consultations?
Nope. It's a snap. All you have to do is go to the Legalzoom website and login. Then, you'll make your request by answering a few questions so that Legalzoom can understand the general nature of your issue. They do this in order to make sure they pair you with the best attorney who can answer your questions. The attorney you are matched with must be licensed in your state.
Do these attorneys work for Legalzoom?
The attorneys are not Legalzoom employees. They are independent professionals. And there is no fee splitting between the attorney and Legalzoom. I like that safeguard and fee splitting is illegal.
How do you know the attorneys are qualified?
Legalzoom does a thorough background check to make sure there have been no complaints against the attorney and to make sure he or she is in good professional standing. Legalzoom makes sure that the attorney has the experience (or has other attorneys of staff that do have the experience). They also make sure the attorney has no marks against their records and that the attorney has malpractice insurance. Since many states don't require attorneys to have malpractice insurance, Legalzoom's requirement that they do is a very valuable safety net for people who want a prepaid legal service.
Snobs
The people at Legalzoom told me that thousands of attorneys apply to be part of this program and very few are admitted. The firm is very picky about who they let in.
What other benefits are there of the program?
The "other benefits" is where this program really shines if you ask me. First, as long as you are on this program, you will receive free revisions for any document you create using Legalzoom. Normally, you'd have to pay $20 to $40 if you want to make a change to your documents once you create them at Legalzoom. But you won't pay a thing to make changes if you are on this plan. And you can make as many changes as you like as often as you like for free. Nice.
Also, Legalzoom offers to keep your documents stored for you at no charge if you are on this plan. That's really nice and allows you to rest easy knowing you won't lose your important legal documents.
You also have free and unlimited access to a ton of legal forms such as:
Promissory Notes
Bills of Sale
Catering Services Agreement
Wedding Planning Services Agreement
Pet Sitting Agreement
Model Release for Minors
Land Co-ownership Agreement
Sublease of Residential Lease
Move-In, Move-Out Checklist
And more
The Main Attraction
Here's the main reason why I think this prepaid legal service is a fantastic idea. Included in this plan is a free annual legal checkup. Using this feature you can speak with an attorney for up to an hour for free on any subject you like as long as it's related to your estate plan.
This is also an opportunity for a qualified attorney to review your plan and let you know if you need to make changes. Even if your situation stays the same, the law often evolves. It's nice to know that someone who is aware of these changes is going to review your documents.
Legalzoom has plenty to offer. They'll review one legal document for you (up to 10 pages) for free. That includes wills, trust, rental agreements, you name it. And if you need an attorney to draft a demand letter for some reason, the plan has you covered as well. Under this provision, you can speak with your attorney and if she thinks a letter is warranted, she'll write and send your letter – and scare the living daylights out of your adversary. Keep in mind however that if the attorney feels that the letter would have no impact, she may decide not to write this letter.
Who this prepaid plan works for?
This prepaid legal service plan is excellent for people who want to make sure their estate plan is solid. The most beneficial part of this plan is the free annual one-hour estate plan review.
Most people don't get a regular update from their attorney because they dislike those high legal bills. Who can blame them? But neglecting your plan can be end up being very costly. By having this free review included, you have a much better chance of keeping your estate plan up to date.
Who else might find this service useful?
Think back over the last 3 years. Was there ever a time when you either spoke with an attorney or wish you had? Did you have any questions that you would have liked to discuss with a legal expert? If you have occasion to make use of even one consultation per year, this is worthwhile.
Who is this prepaid legal service not a match for?
If you are a business person, check out the prepaid legal plan for business. And if you have a high net worth with lots of assets and/or a complicated situation, this is not the way to go. Find yourself an expert attorney and pay the freight. Its money well spent.
The Wealth Pilgrim Bottom Line
My experience with Legalzoom has been excellent. I refer many people there and I haven't heard a complaint yet. I grilled the people over at Legalzoom about this service and they were very forthcoming and answered all my questions. Since you don't have to sign up for any extended period of time, why not give this a try? If you don't like the service you can cancel at any time. Your risk is very low and the potential rewards are tremendous.
Does this sound like a service you would take advantage of?