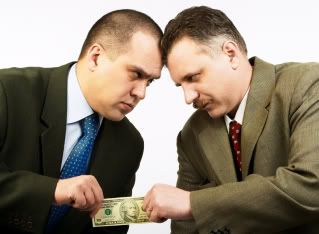 Do you deserve your own personal bailout, or is it wrong to negotiate debt you freely took on? Do you get a little resentful when you see other people negotiate their way out of the debts they created themselves? At the moment, I'm really struggling with this issue. If you loaned someone money, wouldn't you expect to be repaid? You want the other person to live up to the agreement…right? You certainly don't want to get into the personal debt collection business.
A few days ago I interviewed Ken Golde on Wealth Pilgrim Radio. He's a gentleman who negotiated his credit card debt down from over $200,000 to less than $35,000. He even wrote a book about how he did it. I liked talking to Ken. He's a smart cookie and was willing to take on my tough questions.
He made some interesting points and explained why he felt it was fine for folks to renegotiate their debts. But I still don't know…something just doesn't feel right to me.
I know I have a skewed opinion on this matter. I'm not facing the debts that Ken did. It's easy to have an opinion when it's theoretical – but when it's personal, maybe it's very different. Having said that, I realize that my blogging buddies (many of whom are in debt) don't talk about renegotiating their obligations…they write about paying them off. I have a ton of respect for these folks.
Are we all just naïve? Do you think it's OK to renegotiate debts? Does the cause of the debt make a difference?
While you are pondering that…
Let's get to the Pilgrim Picks of the week!
I am very happy to announce that Monevator gets the Pilgrim Pick of the Pack this week.
He did an outstanding job explaining diversification and how it may not be all that it's cracked up to be. I'm not sure if I'd draw the same conclusion from his work, but he did an outstanding job of demonstrating that asset allocation alone won't protect your investments. Well done, Mr. M!
Weakonomics wrote a great piece on some dumb moves by the oil producers. Unique perspective and well written. Me likey.
Lots of folks bash the credit card companies. Here's another perspective I think you may want to consider. Thanks, Moolanomy.
Digerati Life comes in with a strong piece on loan modification firms. This ties in to my rant above. Maybe if you read this piece you'll have a different opinion on the issue.
Green Panda makes a decision about home ownership. A timely subject what with rates and prices this low. Is it time to take the plunge?
Baker has a new perspective on timing the markets. Does crossing the 10,000 mark on the Dow mean anything?
I'm fascinated by the similarities between food and money. One doesn't taste as good as the other it's true. But if you're like me, you find that the struggles are similar. Here's an interesting read on the subject.
Enjoy your weekend. I'm going to try to make mine meaningful…